Setting up Service Account on Gmail.com
Users who have only a Gmail account, and are not Google Apps users, should be able to make use of Service Accounts, but the setup can be slightly different.
Please follow most of the instructions on the main Service Account Configuration page, then follow the link back to this page to complete the following steps (when you get to 'Granting rights for your Service Account to access Groups or Drive').
Extra steps for Gmail.com users
You also need to authorize the Google Developer's Console project to access your Gmail account's drive (or other Google APIs).
To do that, you'd simply attempt to 'Login with Google' to your WordPress site (from the /wp-login.php page). Click 'Login with Google' as below: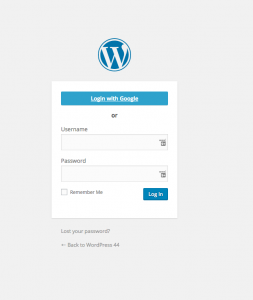 This prompts you to give permissions to the 'project' the first time you attempt to access it.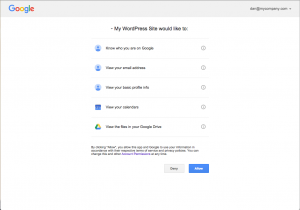 Once you've accepted the permissions, your Service Account should be able to use your Gmail.com account to access Drive or whichever Google APIs your extension may require.
This assumes that you entered your Gmail.com email address in the box labelled 'A Google Apps Domain admin's email' in Settings -> Google Apps Login (Service Account section of the main tab), so that the plugins know which Google account's Drive is to be accessed.
Checking the authorization was successful
If you'd like to check that your Gmail.com account has been authenticated to use a particular project, you can visit your security settings at this link:
https://security.google.com/settings/security/permissions
Your project should show up under the list of apps connected to your account: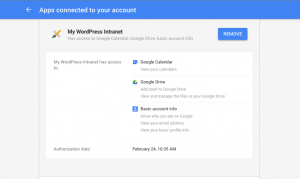 If you click Remove then you will disconnect the project from your Gmail.com account, and you would need to reauthorize as described earlier to reconnect it.