Professional WordPress plugins helping you build secure, collaborative intranets and websites
All our plugins come with friendly email support and updates for one year.
Customers
Our plugins are trusted by thousands of organizations from small businesses to NASDAQ-listed companies and government organizations.
Here are some of our customers and development agencies who recommend us to their clients:

We chose WP-Glogin not only because the product offers perfect functionality for a Google Apps organization running a WordPress site, but also because their knowledgeable developers generously and expertly answered all our questions.
– Brent Stewart, Africare

I was worried that integrating Google Apps into WordPress would mean a lot of custom development, but WP-Glogin provided us with a suite of plugins that essentially created a Google Apps intranet out of the box.
– Nick Trabue, Flat Branch

The plugin installed perfectly… and worked flawlessly. The webmaster didn't have to create new accounts, assign new passwords, or even really do anything beyond their normal Google Apps administration.
– Adam Aronoff, Glossy Dev

We stand behind the quality of our plugins, and believe that you will be fully satisfied. If for any reason you are not fully satisfied, we offer a 14 day, no-hassle, money-back guarantee.
---
Google Apps Login as an Extensible Platform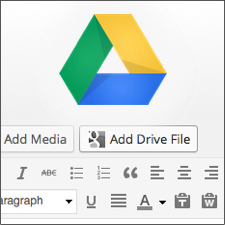 Once you have installed Google Apps Login, your developers can use it as a 'platform' allowing them (or other third-party plugins) to centralize all Google API calls and easily add Google functionality.
Your WordPress site appears to a Google account as one unified 'web application', making it more secure and easier to manage. It also means that extensions do not need any setup of their own once Google Apps Login is installed.
A popular example extension is our Google Drive Embedder plugin which allows users to browse for Google Drive documents to embed directly in their posts or pages.
For help building your own extensions, please see our platform documentation.
---
Contact Us
Please get in touch if you have any questions whatsoever, email contact@wp-glogin.com.
If you would like to speak to us on the phone, please email the best number to reach you on and we will get back to you soon.
Sign up your email address to hear about product updates plus advice on how to make your life easier as an admin of Google Apps or WordPress.
Read our blog for news, plus articles related to WordPress, Intranets, and Google Apps.
Follow @wpglogin