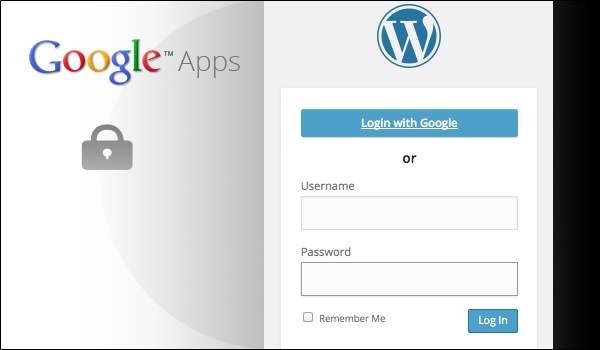 Google Apps Login is a WordPress plugin allowing users to log into your site using Google to securely authenticate their account – no username or password is explicitly required!

It eliminates the need for Google Apps domain admins to separately manage WordPress user accounts, and gives piece of mind that only authorized employees have access to the company's websites and intranet.
Great for users!
No need to remember separate WordPress usernames and passwords
If WordPress is compromised, your Gmail account is still completely safe
Rely on industry-leading Google authentication including Multi-Factor if enabled
Even greater for admins!
Save time and increase security
Completely forget about WordPress user management – it syncs from Google Apps automatically
Ensures that employees who leave or change roles no longer have unauthorized access to sensitive sites
Increase engagement on corporate websites – WordPress user profiles are automatically set up with real names rather than quirky usernames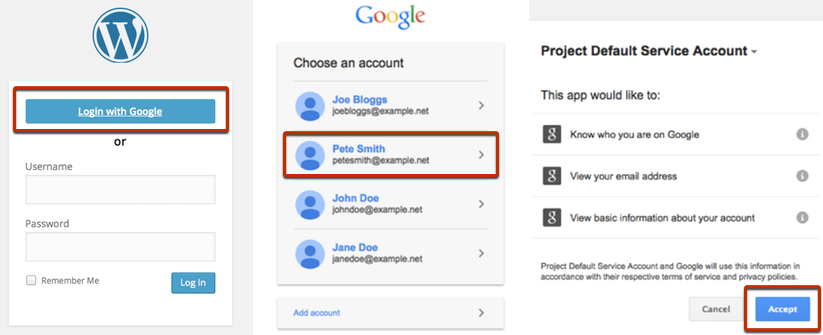 ---
Install now!
Choose the best package for your organization.
Basic package
Our simple login-only plugin is available completely free in the WordPress plugin directory.
Features:
Authenticates any existing WordPress user by connecting to their Google account
Premium package
Admins save time while increasing security and their piece of mind.
Features:
Auto-create new WordPress users if they authenticate successfully from your specified Google Apps domains
Populate new user profiles based on their Google profile
Admin can specify a default WordPress role for new users
Disable regular WordPress username/password login to ensure terminated employees can not login in the future
Email support plus updates for one year
One license allows you to use the software on one WordPress site indefinitely, getting email support and updates for one year, and the license cost depends on the number of users on your Google Apps domain.
Please enquire about bulk volume discounts or alternative pricing for non-profits and educational organizations.

We stand behind the quality of our plugin, and believe that you will be fully satisfied. If for any reason you are not fully satisfied, we offer a 30 day, no-hassle, money-back guarantee.
 Testimonials

I have never left feedback for any plugin, but I had to actually create an account just so I can leave feedback here. The instructions were SPOT ON and clear. It took me less than 5 minutes to create the Google project and have this up and running on my site. And because I used my gmail account on my user accounts, it tied together perfectly. – WordPress plugin review

---
Extensible Platform
Once you have installed Google Apps Login, your developers can use it as a 'platform' allowing them (or other third-party plugins) to centralize all Google API calls and easily add Google functionality.
Your WordPress site appears to a Google account as one unified 'web application', making it more secure and easier to manage. It also means that extensions do not need any setup of their own once Google Apps Login is installed.
A popular example extension is our Google Drive Embedder plugin which allows users to browse for Google Drive documents to embed directly in their posts or pages.
For help building your own extensions, please email us to discuss.
---
Contact Us
We would love to hear from you, so please get in touch if you have any questions:
Email contact@wp-glogin.com
Join our mailing list to hear about product updates plus advice on how to make your life easier as an admin of Google Apps or WordPress.
Read our blog for news, plus articles related to WordPress, Intranets, and Google Apps.