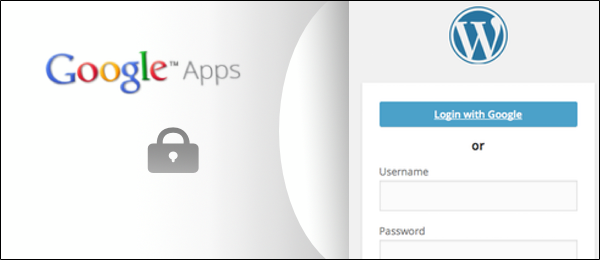 Manage WordPress user accounts entirely from Google Apps. This saves time and increases security – giving peace of mind that only authorized employees have access to the company's websites and intranet.
Users log into your site using Google to securely authenticate their account – no username or password is explicitly required.
A simple login-only version of the plugin is available free in the WordPress repository.
How Google Apps Login professional versions will help you:
Save time and increase security
Completely forget about WordPress user management – the plugin pulls in user accounts from Google Apps automatically
Ensure that employees who leave or change roles no longer have unauthorized access to sensitive sites
Enforce user management through employees' Google accounts only, by disabling access via regular WordPress username/password
One-click secure login via Google means employees do not need to remember yet another password, and admins don't have to deal with lost accounts
Increase engagement on corporate websites – no more waiting for WordPress accounts to be set-up, and user profiles are automatically populated with real names rather than quirky usernames
Even within your organization, make sure your employees have exactly the right levels of access (specify WordPress roles based on Google Group membership – Enterprise only)
Keep an eye on your automated user management through reporting of account changes (Enterprise only)
Google Apps Login is trusted by thousands of organizations from small businesses to NASDAQ-listed companies and government organizations.
You can try it out by clicking here to auto-create a test account on this site!
For a product tour including configuration instructions, please see our Google Apps Login Video.
Purchase and Licensing
One license allows you to use the software on a single WordPress site indefinitely, and includes email support and automatic updates for one year. Our customers love our enthusiastic support!



The license cost depends on the number of users on your Google Apps domain.
Secure checkout by credit card or PayPal – ready to download straight away.
Choose between Premium and Enterprise versions.
Premium
Enterprise

One-click login to WordPress for your Google users – uses the latest OAuth2 protocol including secure 2-factor auth if enabled
Auto-create new WordPress users if they authenticate successfully from your specified Google Apps domains
Populate new user profiles based on their Google profile
Admin can specify a default WordPress role for new users
Disable regular WordPress username/password login to ensure terminated employees can not login in the future
Automatically log users out of Google accounts whenever they log out of WordPress
Email support plus automatic updates for one year

All the features of the Premium package
Granular user role management
Specify Google Groups whose members should be mapped to different roles in WordPress
For example, members of the Google Group 'marketing' should all become WordPress Editors, while everyone else defaults to Subscriber
Full reporting of account changes performed by the plugin
Email support plus automatic updates for one year

License for a Single WordPress installation
Premium
Enterprise

Licenses for Multiple WordPress installations
Premium
Enterprise
Please get in touch with any questions, or to ask about educational and non-profit discounts.
Customers
Some of our customers and development agencies who recommend us to their clients

When we learnt more about the leading Google Apps Login for WordPress plugin, we knew their premium and enterprise versions offered the exact tool we needed for our project.
– Brent Stewart, Africare

The plugin installed perfectly… and worked flawlessly. The webmaster didn't have to create new accounts, assign new passwords, or even really do anything beyond their normal Google Apps administration.
– Adam Aronoff, Glossy Dev
We stand behind the quality of our plugin, and believe that you will be fully satisfied. If for any reason you are not fully satisfied, we offer a 14 day, no-hassle, money-back guarantee.
Screenshots
For plugin installation and setup instructions, please click here. For licensing and other support, please see our FAQs or get in touch!
Have you tried our extension plugins – Google Drive Embedder and Google Apps Directory?
Or use our Google Platform to easily write your own code to call Google APIs, or even build your own extension plugins – see our documentation.