Please note that both free and Enterprise versions of Google Apps Directory require you to also have any version of Google Apps Login installed on your site (free, premium, or enterprise), with the Service Account configured.
Enterprise version
If you have bought Google Apps Directory Enterprise, you will have been given a ZIP file to upload. Upload the ZIP file directly in the Plugins section of your WordPress admin.
To do this click 'Add New' (at the top of the Plugins page).

Then 'Upload Plugin'.

And locate the ZIP file.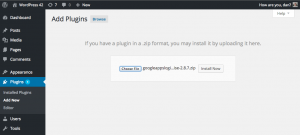 Once installed, click 'Activate' on the Enterprise plugin. If you had our free plugin installed, then Deactivate that first (do not Delete until the premium plugin is up and running).
Free version
In your WordPress admin area, go to Plugins. Click Add New, and then search for "Google Apps Directory". Install from there, and once Activated, go to settings to find the personalized instructions for configuration.