It's a while since we launched the premium version of our Google Drive Embedder plugin, allowing you to embed Google Drive docs, files, and folders directly in your WordPress sites.
You can try out the free version of the plugin here, and it should prompt you when you stumble across scenarios that require you to upgrade to the premium version.
Anyway, to keep you fully in the loop, here is a roundup of some of the most important features now available only in the premium plugin.

Calendars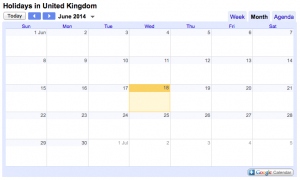 Pick from your Google Calendars and provide download links to ICAL or XML, or embed them directly in your site.
See our example calendar page here.
Google Forms
It's now possible to embed a Google Form directly in your website, so you can survey your users for data, or take other feedback from them.
Videos
Video files stored in your Drive can now be embedded directly in your site, via a Google viewer. Requires Sharing permissions to be sufficiently high, as always.
Native Google Embeds for non-Google file types
This is slightly obscure to explain if you're not intimately familiar with Google Drive and the ways in which files can be shared and embedded, but basically you now have an extra choice for the exact embed method you use. When you choose to embed a non-Google file type (e.g. a PDF), you can choose whether you want this to go through the Google document viewer, or whether you want it to be served as a Drive file (by checking the box labelled 'Embed as Google doc'). More details are here.
You can find out more and purchase the premium version of the plugin here: Google Drive Embedder.