Your WordPress intranet is great for collaborating with colleagues, but not everyone from your Google Apps domain is actively using the intranet, and it's sometimes difficult to know how to contact people in your organization.
Wouldn't it be great to be able to search your entire Google Apps domain to find email addresses of any employees you need to contact? All without leaving your intranet…?
Our latest extension plugin, Google Apps Directory, is a free WordPress plugin that will enable logged-in users to search your Google Apps employee directory – from a widget that you can add to any pages of your intranet or client site. Users simply enter search text to see matching names and email addresses, along with profile photos!
Install the plugin by searching for "Google Apps Directory" from the Plugins page of your WordPress site, or visit the plugin's page on WordPress.org for more details.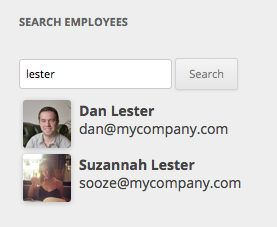 The plugin requires that you also install the free (or professional) version of our Google Apps Login plugin. You will also need to configure a Service Account in Google Cloud Console – instructions can be found inside WordPress Settings -> Google Apps Login once both plugins are activated.