If you're struggling with redundant documents or an intranet that barely gets used, you might want to try embedding Google Drive in WordPress.

If your company runs an intranet resource using WordPress, you've no doubt encountered the limitation of the WordPress media storage system. It's slow to load, it doesn't have a strong organizational architecture, and it isn't easy to browse through. Which makes sense, really: WordPress is great for blog content and inter-company resources, but file management and office software is hardly their expertise.

Embedding Google Drive in WordPress marries all of the functionality (and shareability) of Google Docs, Google Sheets, and your Google file folders with the blog-style ease-of-use of a WordPress-based intranet.
Step 1: Identify what isn't working with your existing WordPress intranet
Internal company wikis or other educational resources for your business are handy for making sure institutional knowledge gets shared and transferred to all employees. Without them, "unspoken rules" tend to build up, which leads to errors and misunderstandings. Onboarding is less effective, responsibilities get forgotten, mistakes increase overall, and new hires take longer to hit the ground running.
The Problem: Employees stop using the intranet
You have meetings and spend valuable work time crafting the perfect internal wiki or company intranet. You assign different blogs and topics to team members, you create a publishing schedule, and you send memos every time a new section goes live.

WordPress is an excellent choice for this—it's robust, heavily supported, highly modular, and has a simple blog style and interface that anyone can use.
However, what happens to your intranet is what happens to ALL intranets: Employees stop using it. Information falls out of date, linked documents become obsolete, and spreadsheets don't get updated. This beautiful, helpful creation becomes a vestigial organ—an educational appendix so ill-used that people start to forget what it was even for in the first place.
The Solution: Integrate a System They're Already Using
The way to get people using your intranet again is to incorporate a system they already know. Humans are animals of routine; we don't like to switch it up. If your team is already using G Suite for work, collaboration, files, and records, asking them to move some of those files over to WordPress complicates matters.

Now they have to update a file, a spreadsheet, etc., make a copy, and then upload it to the WordPress intranet where relevant. And they have to do this every single time they make a change to a training, onboarding, or explainer doc.

With Google Drive embedded in your WordPress intranet, your posts can link directly to the actual files being shared and backed up on your Drive. Not only that, but you can also embed the actual document into the post, which, when edited, reflects those changes back to the file on the Drive (and vice versa).

An embedded document doesn't have to be linked to; you don't have to open a new link. The entire contents of the document are available right on the intranet page. And this doesn't just mean text documents—the ability to embed a spreadsheet right on the page can make your intranet far more useful.
Step 2: Get software for embedding Google Drive in WordPress
The modularity of WordPress is its greatest asset because you can grab any of a hundred software plugins to tweak your blog/intranet however you need it. For embedding Google Drive in WordPress, we recommend WP-Glogin's "Google Drive Embedder" solution.

Google Drive Embedder has a few tiers—including a free option—so you should be able to find something that fits your size. We'll do a quick breakdown on each tier, so you can figure out which one to grab.
The Free Option: Small Businesses or Personal Blogs
If you just need to add or embed drive files to your blog posts, the free option is all you need.

You can embed any file type at the free tier, which includes documents, videos, spreadsheets, pictures, and fillable forms. Adding the files is also still very easy at this tier: The plugin creates a button to add a Google file that's visible on every post. This button allows access to your entire Drive, and you can link or embed as you like.

The features are basic, but the core experience is all there, and it will solve your problem.
Premium: For Teams
This tier of Google Drive Embedder mostly adds functionality for teams and more control over design.

The best feature of Premium is that it allows you to embed Google Calendars into your intranet, which is obviously a huge boon for teams who need to coordinate schedules. Or for add things like training events right from a WordPress page or post. It also allows the ability to embed an entire folder into a post or page.

Premium also includes more robust file sorting, better access to "My Drive," and additional support, and automatic software updates.
Enterprise: For Entire Companies
The Enterprise edition of Google Drive Embedder includes all of the features of free and Premium but adds great customization and accessibility for larger groups.

Enterprise adds folder columns that can be customized with CSS, allowing your team to organize your Google Drive folders however you like. It also adds the ability to upload new folders directly to Google Drive from the WordPress page, saving you the trip to another login in another tab.

One of the more interesting features you'll want to check out at the Enterprise level is the automatic folder creation. Every post or page in your WordPress intranet automatically generates a corresponding folder in Google Drive. This aids in organization and puts files right where you'd expect them to be, but it also allows you to send files to WordPress from Google Drive by putting the file in that page or post's folder.

Again, all this does is ensure that the intranet actually gets used, because it's as convenient as humanly possible to update and work with.
Step 3: Install Google Drive Embedder
Installing and configuring the plugin shouldn't take too long, and the process is fairly straightforward.

The free version is by far the simplest to install. Login to your WordPress site, access the dashboard, and navigate to the "Admin" section. From there, click on "Plugins" and "Add New."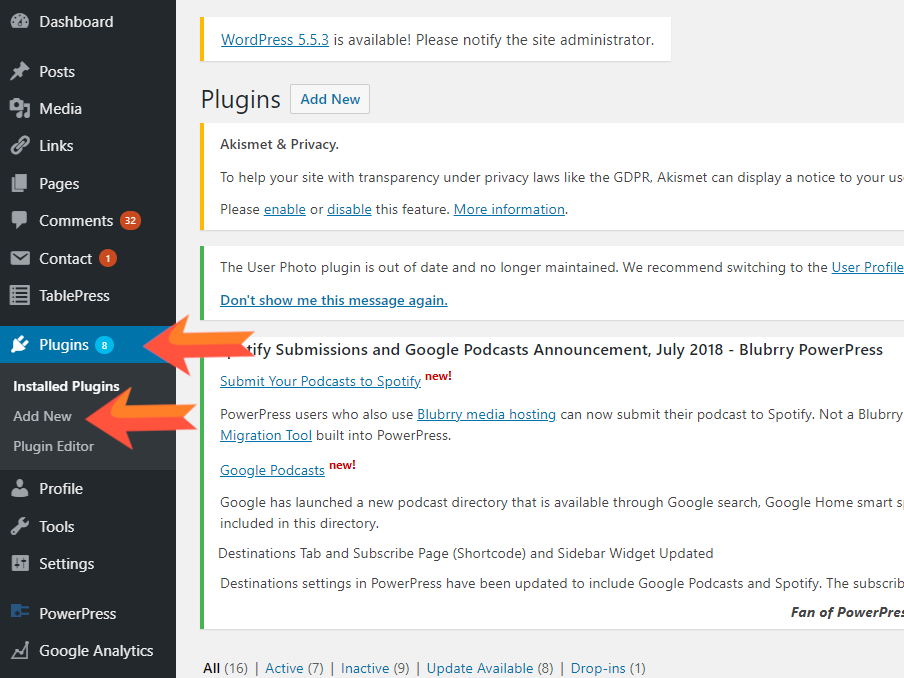 In the search bar on the right, type "Google Drive Embedder" and hit enter. The plugin should pop up in the results area, usually on the left.
Find it and click "Add" or "Install," depending on your version of WordPress.
From there, the prompts will carry you the rest of the way through installation. You'll have to log in with Google at some point, so have the login details for your Drive ready to go, especially if it's a team or company Drive.

For the Premium or Enterprise version, you'll need to navigate to the purchase page and choose which version you want, how many site licenses you'll need, and the number of Google Apps users (for the Enterprise version).

Once you've purchased this, you'll be given a .zip file to download containing everything you'll need. Don't unzip it—WordPress will handle that.

To upload this to your WordPress site, log in and visit your dashboard. As above, navigate to the "Admin" section, find the "Plugins" button, and click "Add New."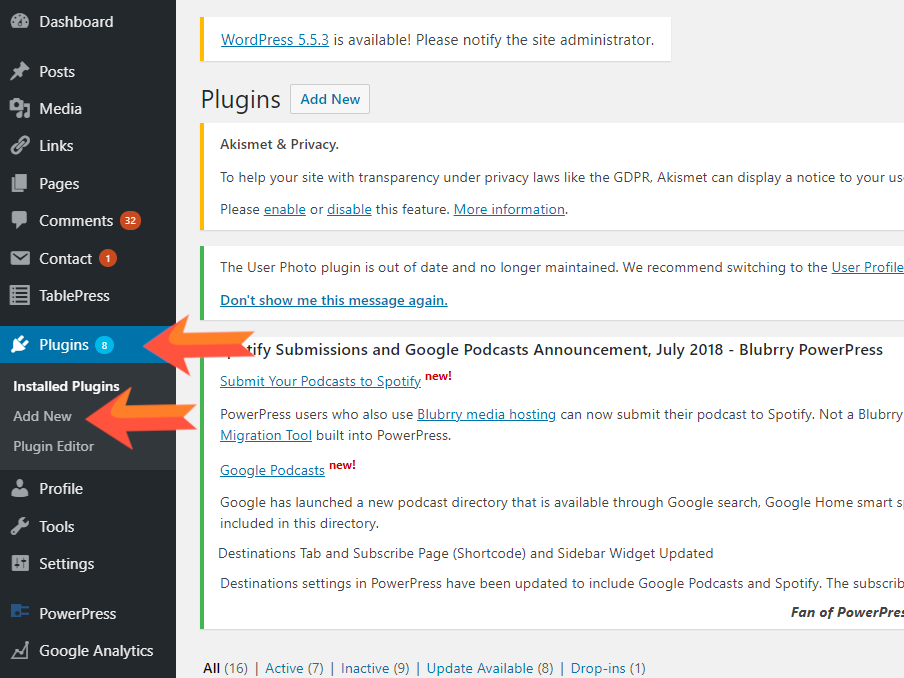 This time, however, you won't be using the search bar. Instead, you'll click on "Upload Plugin."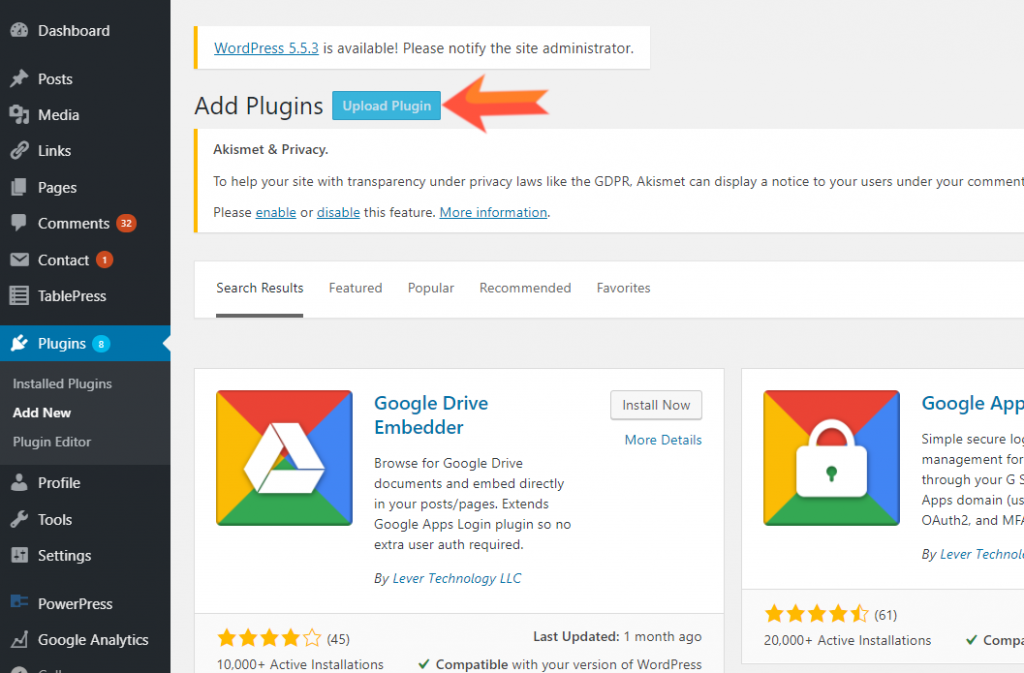 This will open up a file explorer to your computer's files. Find your zip file, select it, and click "Install Now."

From there, you'll follow the prompts and make sure to activate your plugin using the confirmation number you would have received with the purchase. As for installation, that's it. Your WordPress now has Google Drive Embedder, and you can start embedding files in all of your posts and pages.

From there, you can configure advanced options for the embedder in the "Settings" section of your normal WordPress dashboard.
Enjoy an intranet that your team actually uses
After the ease of embedding Google Drive documents becomes apparent, you'll find your intranet or internal wiki gets a lot more traffic and up-to-date edits than it used to.

Check out the Google Drive Embedder demo to get a picture of how embedding looks (and works) with different file types on a WordPress page.